Writing a Good Hook for an Essay: Good Attention Grabber
Are you wondering how you can start your essay to grab the reader's attention? Then it would be best if you considered using a hook for an essay. It is a unique way of reaching your essay reader by capturing their attention to the piece of writing.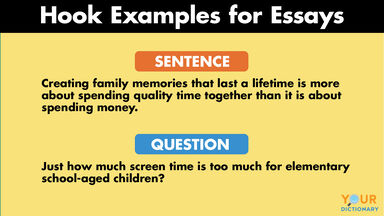 Hooks uses words as a weapon by making the readers fall in love with your essay, making them read every word and sentence in excitement. Let's go to developing a good hook for an essay.
Good Hooks for Argumentative Essays
You can use various types of hooks when writing your essay, depending on your selected topic. The commonly used types of hooks are the use of questions, statistics, or quotes.
Each type works efficiently for an essay, but you have to keep in mind that the way you write your hook will influence your overall work's essence.
While writing an essay, you should ensure that your attention grabber is related to the paper's topic.
Similarly, an exciting introduction does not have to be a jaw-dropping way of revelation. Instead, great attention-grabbing hooks are precise and straightforward for the understanding of the readers.
It would be best if you did not forget to make it attractive to your audience. Did you get it? What is a good hook sentence? Let's now go to some examples of hooks.
If you construct a hook for an essay that make your audience curious, you have already taken the first step in securing your hook attractive.
In other words, you have already made your readers fall in love with your essay. Here are some of the hooks that will make your reader curious about reading your essay to find out more about what you are discussing.
1. Fascinating Question Hook for an Essay
A fascinating question hook works when you begin writing by asking questions related to your essay topic.
It grabs your reader's attention, making them interested to know what you have written in the whole piece.
Generally, people are curious, when you use a catchy question; they want to know the real answer.
Starting your rhetorical analysis essays with an attractive and exciting question hook acts as a signal to your readers that if they read the whole writing, they will get to know the answer to the questions. This is how to write a formal hook for an essay.
A simile or a metaphor type of a hook makes your essay reader think about the topic differently, thus engaging them.
An analogy is a type of speech that compares one thing to another directly. However, the two things are unrelated. Metaphors and similes make your essay hook to be interesting to grab the attention of your reader.
3. Hook Story Essay Hook
With this strategy, you grab the reader's attention by beginning your essay with a short story or a brief episode that relates to your study topic.
Most readers love fascinating stories, especially stories that are well- written and memorable.
The essence of a great story is by making a personal story or someone else. It makes the readers relate to what you are writing in your essay.
This hook for an essay type helps to attract their attention to reading the whole story. Mostly, the essay story hook is usually longer, unlike the other hooks, which is very okay
However, despite your story being longer, it should not cover much of your paper. You should also consider your readers by asking yourself if the hook story is acceptable, precisely the academic audience.
4. Facts Hook
Fact hook is a type of a hook where you begin your essay with statistics, figures, or facts to grab their attention.
Facts and statics give real information about your essay topic. It would be best to use appealing, accurate, and reliable facts to impress your reader with your knowledge.
When using factual hooks, you should evaluate your information keenly to ensure that it comes from an incredible source. This is how to write a hook for a research paper.
5. A Descriptive Hook for an Essay
With this type of hook, you use a vivid description to draw your readers' attention.
The right description hook for an essay creates a scene that makes your reader want to know what follows in your essay.
This type of hook is majorly used in narrative writings but can also be used for other kinds of essays. Similarly, like the story hook, before using a descriptive hook, you should consider if it is acceptable to the audience or a specific course.
How to Write a Good Hook for an Essay
For you to write the right hook for your essay, you should use an opening quote. This helps to grab the attention of your readers.
Quotes may seem lazy, but they are highly effective in attracting your readers. It works best when the quote is in the form of a question, is negative, or has a great tone.
Starting your essay with a quote creates a compelling introduction to grab the attention of your audience. There are different ideas, which you can use to make a hook for an essay. Let's review the essential ones.
1. Writing Your Hook after Writing the Essay
Should the hook necessarily come before the main text? Not at all.
It may sound strange for many people, but this approach will help you decide on a hook that best aligns or fits in the content of your essay.
It would be best if you came up with a raw thesis statement version by backing it up with examples in every paragraph.
To make a hook, you should look for ideas such as quotes, questions, or facts.
After reinstating your thesis statement with your conclusion, the next step is to add your hook for an essay at the beginning of the essay introduction.
It would be best if you kept in mind that the hook should always relate to your essay topic.
2. Playing with Several Hooks for an Essay
You should not limit yourself when it comes to choosing the type of hook to use after all your main objective to grab attention.
Is it? Search for as many hook starters as possible and then start playing with them to see which fits your essay effectively. It is just like going shopping.
You put on several things to determine the best size, color, model, and appropriate. In the case of writing an essay, you can write a couple of facts, figures, quotes, and metaphors and add each to the introduction to see which fits your work effectively.
Conclusion
In conclusion, sometimes people are hard to perceive information, which they already know.
As a writer, you should strive to catch your readers' attention from the start to the end.
Remember, hook introductions are not only meant to lessen the cause of boredom, but they are the first dose of it.
Therefore, you should intrigue your readers by using exciting hooks. Do you want good hooks for an argumentative essay, hook ideas, or attention grabbers for your term paper? Use our services today!!
How to Write a Process Analysis Essay
Explanatory Essay Graphic Organizer
How to Write a Dialogue in an Essay
How to Write An Essay about Yourself
How to Write a Scholarship Essay